STAFF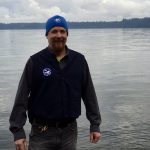 Daniel Hull, Executive Director has been a community organizer and environmental educator for over 28 years. He has worked with several government agencies including US Geologic Survey, US Fish and Wildlife Service, US Forest Service, US National Park Service, the Nisqually Squaxin and Quinault Tribes, Washington Department of Natural Resources, and Washington Department of Fish and Wildlife. He has also worked with many community groups, NGOs, and non-profits. During his tenure in community engagement, Daniel has created, managed, and participated in dozens of monitoring projects and presented thousands of educational programs. These programs focused on connecting the community with their local environments and linking that with overall ecosystem health. The culmination of efforts put forth was instrumental in the creation of a community-driven State DNR Aquatic Reserve in 2011. Daniel has a general degree in Natural Science and minor in Communication and Interpretation from Hocking College in Nelsonville, Ohio.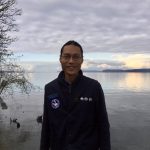 Terence Lee, Science Director has worked in the nonprofit community in Olympia as a scientist for the last nine years, because he is passionate about environmental issues; something that began while growing up in San Francisco. He learned how to fish and garden from his dad, which eventually led to a desire to learn how take care of the natural world. He earned a BS in Environmental Science from The Evergreen State College with a focus in conservation and marine biology. Saving the world is a big job that nobody can do by themselves, but it can be done when many individuals work cooperatively to accomplish that goal. Terence is inspired to use community science as a tool to connect people with nature and teach others new ways to appreciate the natural wonders of the world. One of his dreams is that salmon populations up and down the West Coast will be restored, which will lead to healthier societies, economies, and people. Not surprisingly, Terence loves to fish, garden, read, and cook in his spare time.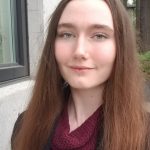 Jane Jones, Research Intern is currently pursuing a degree in Biology (Ecology, Evolution, and Conservation) at the University of Washington. Growing up among the temperate rainforests and rocky beaches of Bainbridge Island made the outdoors feel like home, and volunteering at the Seattle Aquarium during high school showed her how public outreach can help inspire the protection of our natural world. Joining the NRNC team this summer will allow her to develop the skills needed for a future career in research. When not practicing the bass guitar or embroidery in her spare time, she can be found photographing the Pacific Northwest's diverse wildlife.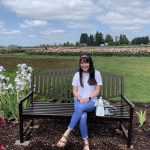 Kiley Pazcoguin, Research Intern was born and raised on the island of Oahu in Hawaii. Growing up surrounded by beaches allowed her to visit there frequently and search for marine animals which sparked her interest in marine science. This coming fall she will be a senior at Saint Martin's University and will be graduating with a B.S. in environmental science. After college, her plan is to attend graduate school and earn a Master's in Marine Science. Her goal is to go into marine resource management and focus on conservation. Kiley's hobbies include tending to her plants and shopping. Being able to intern with the Nisqually Reach Nature Center is an amazing opportunity that will allow KIley to gain more experience and reach her goals of going into marine resource management.
BOARD OF DIRECTORS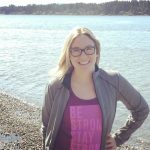 Katitza (Kat) Holthaus, President grew up in Southern California where the majority of her days were spent at the beach and learning about marine life. She volunteered with a local organization leading community water quality testing, fish seines, and beach clean ups. In 2007, she moved to Washington to pursue her bachelor and master degrees. She currently works for the Department of Health as a policy analyst. Kat became a board member in 2017 but has been volunteering with summer camps, forage fish surveys, and PIGU surveys at NRNC since March 2016. The health of Puget Sound is vital to Washington's existence and she wants to share her passion in protecting natural resources with anyone who will listen.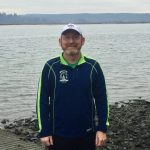 Brian Scott, Vice President recently retired after 28 years as an Army Officer. He has two young children who love NRNC summer camps. After traveling and living all over the world, he has decided to set roots here in Washington and contribute to the continued success of NRNC and its great mission.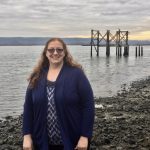 Jessica York, Treasurer is originally from Spokane, Washington but now calls Lacey home. Her time with the Army moved her to a variety of places over the years. Jessica enjoys swimming, photography, puzzles, sewing, and game nights with her kids. She is excited to put her accounting and business expertise to great use for a great cause and take on the new role as Treasurer.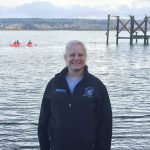 Suzie Scott, Secretary recently retired from the Army after 30 years of service as an Army Nurse Corps Officer. She is now serving as the Chief Nursing Officer for Providence, Southwest Washington Service Area. She and her husband Brian have two young children who love NRNC summer camps. Now that she and her husband have decided to make Washington their forever home, she wants to help her community and the environment so has volunteered to serve on the NRNC board to contribute to the continued success of the Center.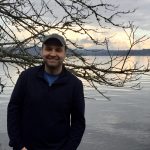 Daniel Krenz is an 8-year U.S. Army combat veteran that has been with the Nature Center since 2008, a member of the Board since 2012, and served as President from 2017 through 2020. Daniel attended Pierce College and The Evergreen State College for his undergraduate science work and received a Master's of Natural Resources degree from Oregon State University. Daniel is a senior project manager with the U.S. Army Corps of Engineers in Seattle, specializing in Clean Water Act regulation.

Cris Peck is originally from Cincinnati, Ohio, but has worked in the Nisqually area since 2012. Cris worked for the Nisqually Land Trust for 5 years doing habitat restoration and land conservation projects throughout the watershed. Before that, he worked at a cannery in Alaska, was a camp counselor in Kentucky, did trail crew in Appalachia, and worked on restoration projects throughout the Midwest, including wetland mitigation in the infamous Cuyahoga River watershed. Cris has been a board member since 2016. The Nisqually watershed and its estuary would not be protected without concerned citizens working together for the benefit of our natural world, and he is honored to be a part of this unique community.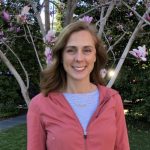 Shannon Boldt is a native Washingtonian and graduated from Pacific Lutheran University with a Bachelors of Science degree in Biology, and a minor in Chemistry. She started her career working in geriatric and sleep and aging research at the American Lake VA Hospital. Afterwords, she was on the New Product Development team at Abbott Diagnostics in Germany. Upon returning to the States, she transferred to their clinical research pathology lab, prior to becoming a stay-at-home mom.  Shannon has a strong love for and attachment to saltwater and marine life, and sought to finally follow her dream of working at the beach by becoming involved as a volunteer in the Nisqually Reach Nature Center's forage fish project, and now also Pigeon Guillemot surveys. In her free time, Shannon enjoys spending time with her kids and husband, walking, hiking, surrounding herself in nature, traveling, bird watching, and photography.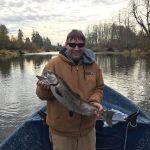 Derek Faust is originally from Pennsylvania and moved to Washington in 2018. He grew up playing in the woods, lakes, and mountain streams. Derek has attended Elizabethtown College, Texas Tech University, and Mississippi State University, earning B.S., M.S., and Ph.D. degrees in the field of environmental science. He is a faculty instructor at Clover Park Technical College in the Environmental Sciences & Technology program with expertise in wetlands, water quality, and ecology. Derek became a board member in 2019 and is excited to share his passion for the outdoors and expertise in science and education to help advance the mission of NRNC.