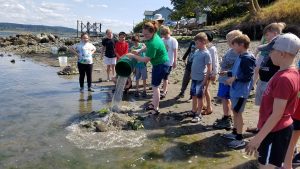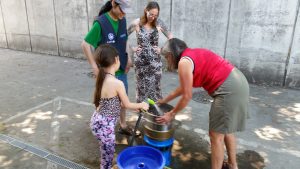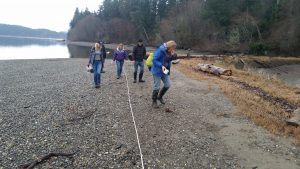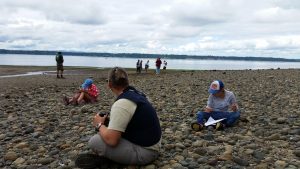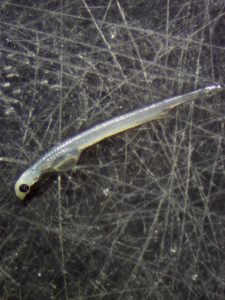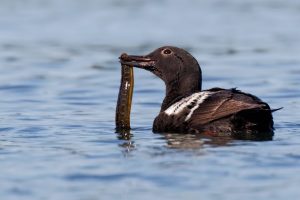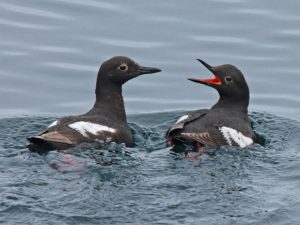 As a small non-profit, volunteers are the backbone of our organization. We provide training for all our volunteers; no experience is necessary- just a passion and desire to learn. Click on the Online Registration to fill out our online volunteer application. Opportunities right now include:
Summer Camp Counselors: Our summer camps are staffed by volunteers. Come out and enjoy time on the beach with kids and learn more about the aquatic life of Puget Sound.  Help connect kids with nature.
Field Trip Counselors: Are you are interested in gaining experience teaching or becoming a part-time paraeducator? Under the direction of the Education Director, volunteers run programs and activities that engage students in learning about the aquatic life in Puget Sound. During the school year, students from various schools come to the Center for half-day or day-long field trips. You can be a crucial impact in these student's learning experience.
Community Science: Not a trained scientist or want to gain experience? If you care deeply about our beautiful Puget Sound environment, you can join one of our citizen science research projects. We train volunteers to carry out research that provides critical data to assist those within the scientific community who rely on such data to conduct status assessments and make informed management decisions. Current ongoing projects are Forage Fish Surveys, Pigeon Guillemot Surveys. Whatever your interest- bird watching, fishing, habitat preservation- you can join an ongoing project or we can help you develop a new one.
Visitor Center: Volunteers staff the Center during open hours (Wed, Sat, & Sun 12PM-4PM). They also help maintain the facility and the aquariums. Greet visitors, chat about the local environment, and answer questions about birds, tidal changes, and all the exciting work at the Center.
Newsletter writers: Join the Communications Committee as a Newsletter Writer! Our newsletters are published quarterly and cover varying topics surrounding NRNC, the Nisqually Reach Aquatic Reserve, fishing and crabbing season, and hot-button environmental issues that impact Puget Sound.
Photography: Do you love taking pictures? Volunteer to capture NRNC in action! Join us at events, surveys, and summer camps to take pictures and share on our online and in-print communications.
Administrative Assistant: Assist the Executive Director in responding to emails, phone calls, and upkeep of the filing system.  Assist the Education director in handling education program registration.
Aquarium Maintenance: Assist with maintaining our three salt water aquariums.  Feed the animals and clean the tanks.  Monitor the health of our critters.
Social Media: Help NRNC manage and update our Facebook, Instagram, and Twitter accounts. Engage our viewers with related news and share upcoming events. Join the Communication Committee to tell NRNC's unique story and showcase the diversity of those who are impacted by our work.
Internships:  NRNC has internship opportunities for our research and education programs. Internships can be tailored to vary by length (quarter, semester, full year) and commitment (Full-time or part-time; 20-40 hours/week).  These opportunities are also available as for credit or not for credit options.  Our interns work side-by-side with our Education Director and Science Director to manage and run programs. Click on the internship position descriptions below to learn more.
2021 Education Internship Description
2021 Research Internship Description
Click below for instructions on how to create and manage your volunteer accounts.



We can tailor volunteer opportunities to your interests, please email us at NRNC@nisquallyestuary.org or call us at (360) 459-0387.
For education opportunities, please contact our Education Director, April at aprilroe@nisquallyestuary.org.
For research/community science opportunities, please contact our Science Director, Terence at terencelee@nisquallyestuary.org.
We are excited to hear from you!