Get Involved with NRNC



ABOUT NRNC

Map and Directions

Hours

Parking

Fundraising
AQUATIC RESERVE
BECOME A MEMBER
VOLUNTEER

Volunteer Calendar
WILDLIFE AT NRNC

Birds

Invertebrates
RESEARCH
EDUCATION
PHOTOS
CURRENT TIDE CONDITIONS AT NRNC

Nisqually Reach Nature Center
4949 D'Milluhr Dr. NE
Olympia WA 98412-2311
(360) 459-0387
NRNC@NisquallyEstuary.org

OUR MISSION: Nisqually Reach Nature Center is a volunteer-run, membership-supported, nonprofit organization that promotes the understanding, appreciation, and preservation of the Nisqually estuarine ecosystem and its integral role in the local environment, history, and culture, through interpretation, education, and research.
AQUATIC RESERVE

In 2011, Commissioner of Public Lands Peter Goldmark signed the Nisqually Reach Aquatic Reserve Order and Management Plan. This was quite an achievement and well deserving of celebration. But what does it really mean for NRNC?
.... Read more
SUMMER CAMP 2014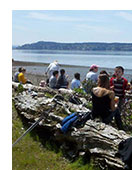 Now in our 14th year of summer camp programming, our tried-and-true hands-on activities will introduce campers to fundamental biological and ecological principles in a fun, science-based curriculum!
....Read more
FEAST AT THE REACH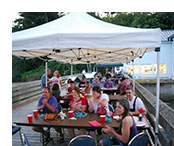 The 2014 Feast at the Reach will be on Saturday, September 13. Seatings are at 3:30 pm and 5:30 pm. Order your tickets now for this wonderful annual fundraiser, with good food, GOOD music, and good company!
Tickets can be puchased online this year. Click here to purchase.
.... Read more
PUGET SOUND MARINE IDENTIFICATION GUIDE