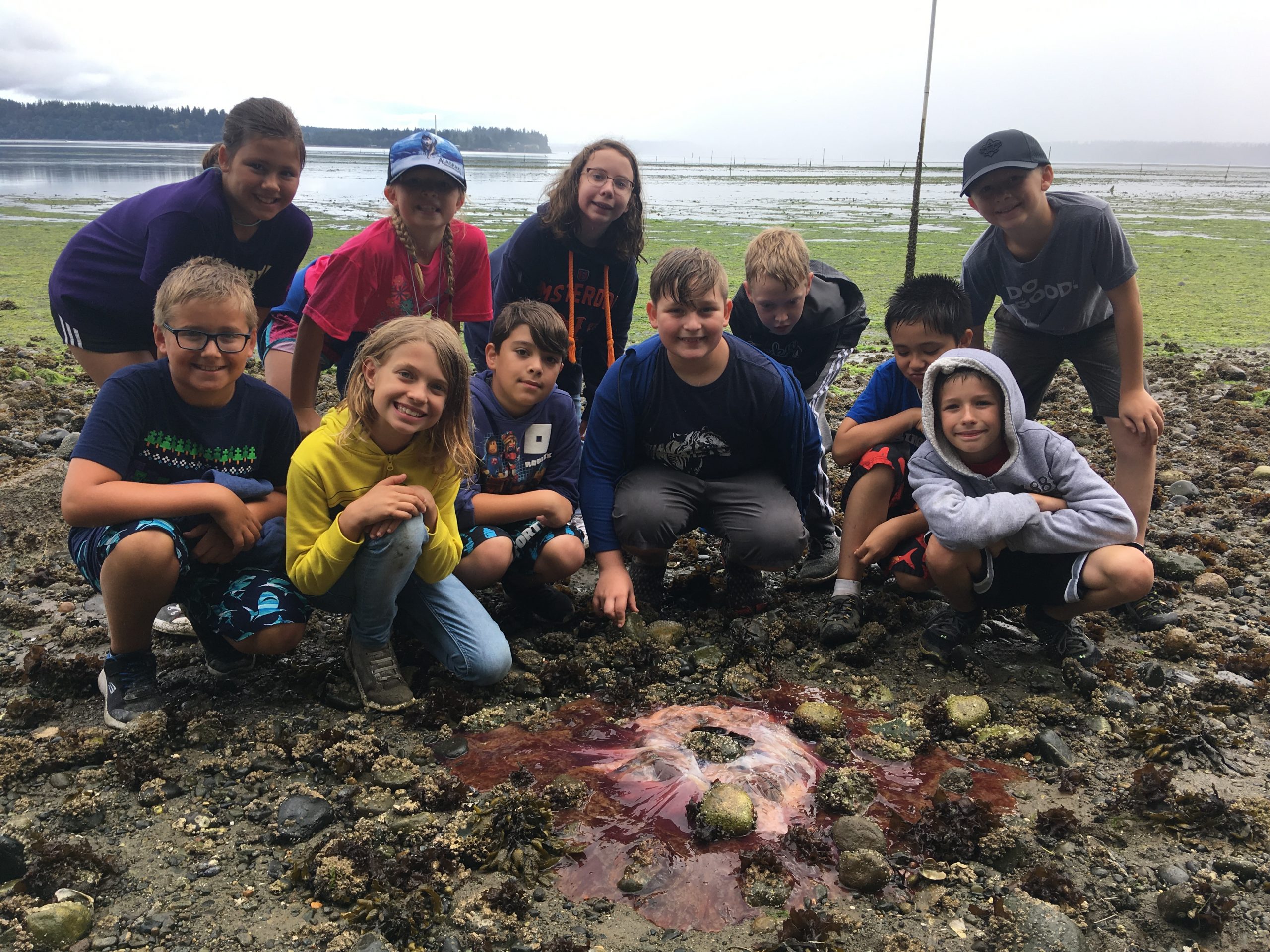 ALL CAMPS FULL FOR SUMMER 2021
Since 2000, NRNC has played host to numerous popular summer day camps at Luhr Beach. Led by the Education Director and many volunteer counselors, these camps are designed to connect students ages 7-12 with nature through a hands-on, inquiry-based science program. Each 3-day camp enrolls 12 students. 
Our summer camps emphasize basic science concepts through engaging activities, educational games and free time on the beach. Workbooks given to each student contain information about beach etiquette guidelines, worksheets for recording data, word games, and puzzles, as well as identification pages for local estuary plants and animals.
In addition to the NRNC core curriculum, new elements are introduced each year. These include guest speakers and innovative activities. Past presentations have focused on the geology of sand/mud, nature journaling, bird facts/myths , salmon life cycle and habitat, prey/predator relationships, dogfish and squid dissection, deep-sea diving in Puget Sound, fly fishing, nature mapping, and much more. Many campers return year after year to build on and refresh what they experienced the previous summer.
NRNC is dedicated to providing a safe and fun experience for all summer campers. We are following CDC and Washington State Department of Health guidelines for our summer camp programming. NRNC has reduced our enrollment to 12 children per camp. All students and staff are required to wear a mask during the camp day. We will be holding camp outside the nature center building all day this summer.

We look forward to seeing you for our 2021 summer camps! If you have any questions, please contact April Roe, NRNC Education Director, at aprilroe@nisquallyestuary.org.
2021 Classic Beach Summer Camp Costs
NRNC Member Price (must have a household membership or greater): $140
Non-Member Price: $160
Need-based financial aid is available. You must fill out the registration form for the appropriate camp in addition to NRNC's scholarship application.
Important Reminders
All Classic Beach Summer Camps are from 9 AM – 4 PM. Before care (8 AM) and aftercare (until 5 PM) is available at an additional cost ($15/hr).
Before you pay for camp make sure you have filled out an online registration form found by clicking the links above.
Payment options: You can bring or mail a check to 4949 D'Milluhr Dr NE Olympia WA 98516 or pay online using the sign up links above.
Scholarship Assistance: It is part of our mission to be accessible to students of all financial backgrounds. For more information and to apply, click the button below.