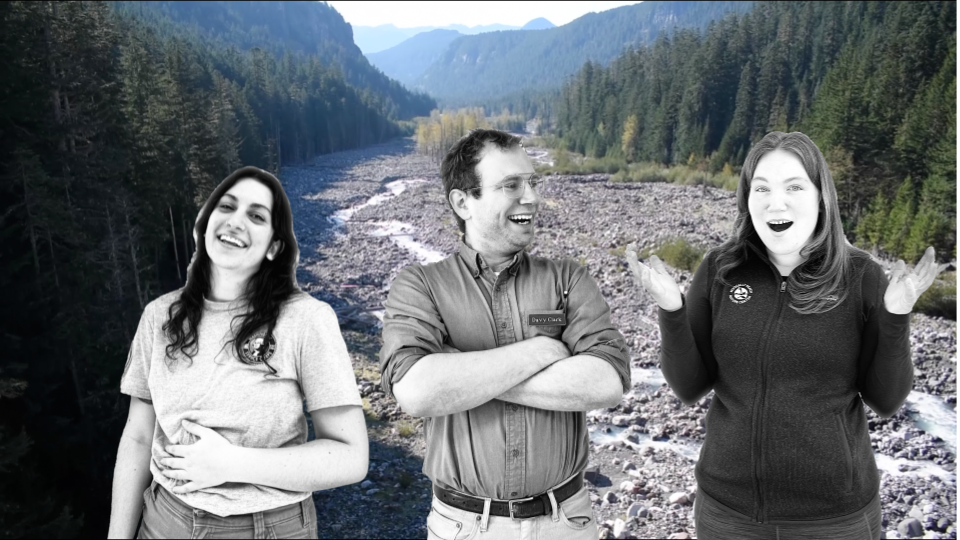 Virtual lessons to inspire awe and curiosity
Overview for Teachers
Created in partnership with the Nisqually River Education Project, Nisqually Reach Nature Center, and Billy Frank Jr. Nisqually National Wildlife Refuge
Exploring the Nisqually Watershed is an interactive series of lessons that may be used as a standalone activity, or to prepare your students for field experiences throughout the Nisqually Watershed.
The goal of these lessons is to inspire awe and get students curious about the incredible natural landscapes in their "backyard".
These lessons were designed for 3rd and 4th grade students, but we encourage educators working with students of all ages to make use of these lessons.
Completing the "Exploring the Nisqually Watershed" lessons will take students anywhere from 45-90 minutes.  
These lessons use the Nearpod platform. While an app may be used, it is not necessary. These lessons work best in Chrome. Other web browsers may not work properly. We recommend students use a chromebook, desktop/laptop, or tablet. We do not recommend completing these lessons on a cell phone.
The links below are Preview-only and your students cannot participate in any interactive components of the lessons using a preview only link. To receive student links that allow participation please follow the directions below:
Include the following information in your email: 
1.Your name:
2.Number of students:
3.Grade of students:
4.School:
5.District:
Upon receiving your request we will provide you with student links for each lesson. Please allow up to 3 days to receive your links. 
The links below are provided as a preview of each lesson (interactive student activities are disabled). 
Introduction to the Watershed
https://share.nearpod.com/o7KhcrK5Eeb
Lesson 1: Estuaries and the Nature Center
https://share.nearpod.com/QLe4YblsGeb
Lesson 2: Wetlands and the Wildlife Refuge
https://share.nearpod.com/TJLpu1LPzeb
Lesson 3: Forests, Salmon, and Mount Rainier
https://share.nearpod.com/otX6F3tlEeb
Want your class to Zoom with us? We'd be happy to arrange for a short zoom follow up with your students to talk more about the natural features of the Nisqually Watershed and answer questions your students may have after completing these lessons.