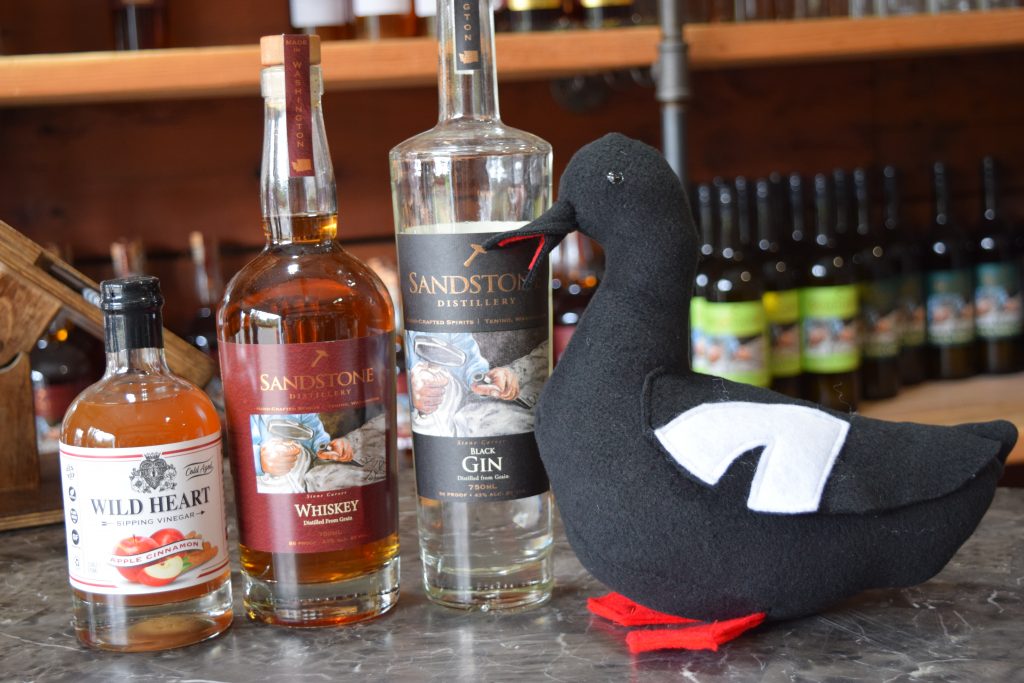 On Saturday, May 22 join  Nisqually Reach Nature Center and Sandstone Distillery for a Zoom cocktail class and learn to make two original Pigeon Guillemot-themed cocktails.  One representing breeding plumage and one of winter plumage. A mocktail (fledgling) will also be offered.
All funds raised during this virtual event will  support NRNC's community science-based Pigeon Guillemot research program.
Join in starting at 5:45 p.m. and chat with Nisqually Reach Nature Center's Executive Director and Master of Ceremonies, Daniel Hull. The mixology class begins at 6:00 with a welcome and introductions followed by a live mixology lesson from Sandstone Distillery owner John Bourdon, who will demonstrate how to make these original drinks from the hand-crafted spirits, sipping vinegars, and syrups distilled in Tenino, WA. John will also share the history of the distillery and distilling process for these artisan liquors. As you sip your cocktails, Science Director, Terence Lee will give a slideshow presentation on Pigeon Guillemots and the community science research NRNC has engaged in for the past 9 years.  Finally, at 7:00 PM door prizes will be drawn and the event concludes. For those who would like to continue to sip and socialize, the Zoom after-party will begin afterwards
50 Tickets will be available Saturday, May 2 – Sunday, May 16th.
For $35.00, you will get a cocktail kit with artisan spirits distilled at Sandstone, sipping vinegar, simple syrup, recipe cards, a Pigeon Guillemot brochure, and a link to the live Zoom mixology class and Pigeon Guillemot program. The kit will contain ingredients for one of each cocktail and a mocktail. There will be a short list of suggested additional ingredients for the cocktails not included in the kit.  Each participating ticket holder will be eligible for door prizes that will be awarded at the end of the program including wine from Stottle Winery, Stone Carver Barrel Aged whiskey and sipping vinegar from Sandstone Distillery, and a one-of-a-kind Pigeon Guillemot stuffed animal.
Kits will be available for in-person pickup only at Nisqually Reach Nature Center on:
Friday, May 21st between 1:00 pm and 8:00 pm and
Saturday, May 22 between 9:00 am and 4:00 pm
Special arrangements for pickup may be available on a limited basis.
Please call 360-459-0387 for more info or schedule a pick up.