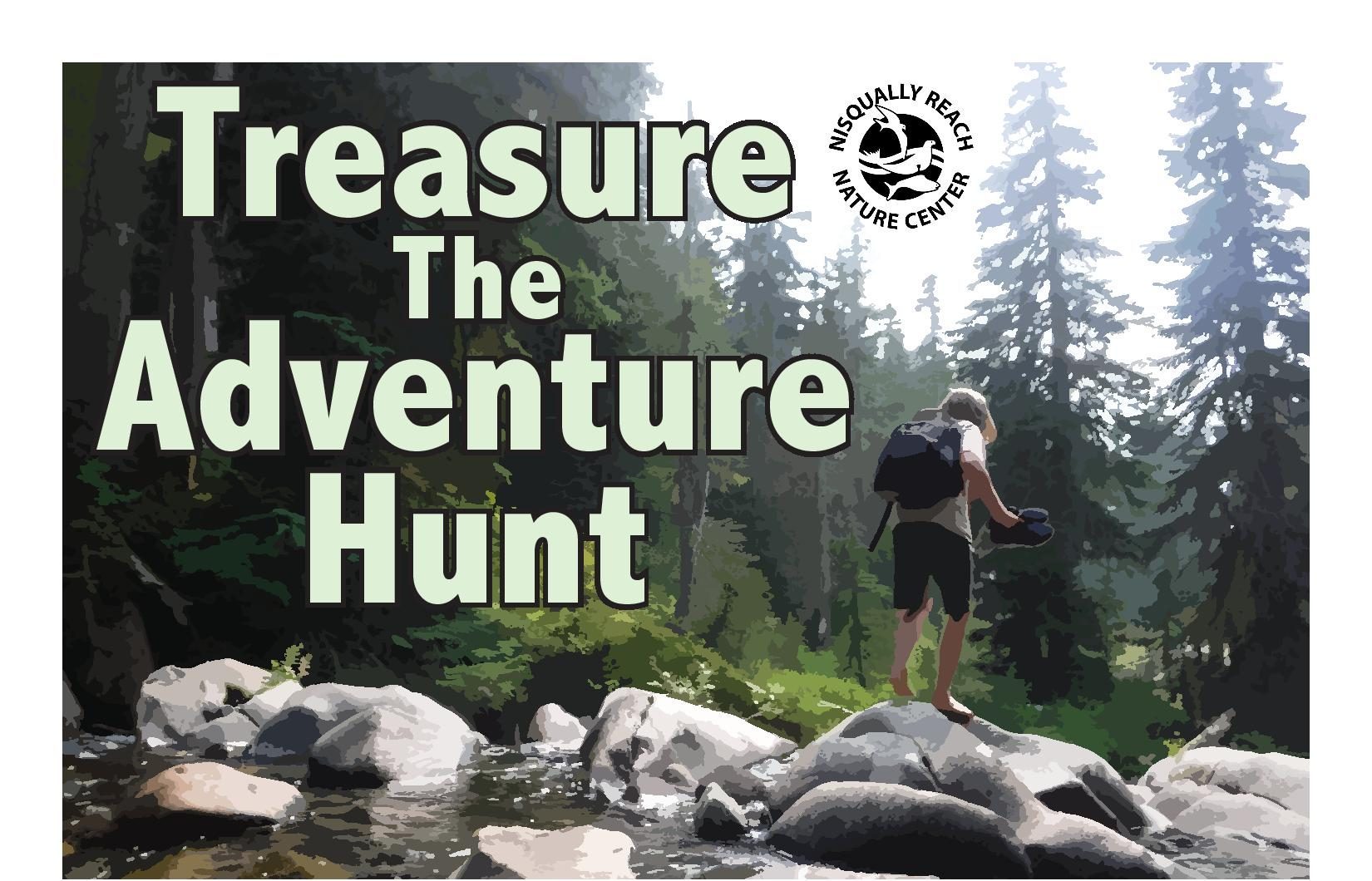 The Nisqually Reach Nature Center invites you and your family to join us for an adventure through some of Thurston County's most spectacular public lands! While all participants will receive an awesome NRNC shore crab sticker for participating, one family will win a gift certificate for 4 people to kayak at Boston Harbor Marina.
This program is now on hold as we are working with our partners in Olympia to augment this program for more people to participate.
Please read through the directions below before registering to participate:
On this treasure hunt, you will be frolicking through lush old growth forests, hiking on boardwalks over fragrant blossoming wetlands, and spending time discovering the immense beauty present in Pacific Northwest. Unlike traditional treasure hunts, this journey will not have you digging an 8 foot hole at the end to find a golden treasure chest. Instead, you will be searching for laminated signs at 6 different public land locations. This treasure hunt does not need to be done in a day. Take your time and enjoy the richness of the land surrounding you. Bring picnic baskets, water bottles, sunscreen, and swimsuits and treasure the sweet time spent with your loved ones.
2. This treasure hunt has 4 main components:
A. Treasure Map – Let your map lead you to each of the public land locations! Follow the numbers written on the map (starting with 1).
B. Activity Book – The activity book provides fun for the journey! Each location has its own activity to complete. The activity book also holds the key to decoding the signs you will be searching for.
C. Codes – Each location has a laminated sign that includes both a code and a clue. Codes are made up of symbols and can be decoded using the key in the activity book. Stringing together all the decoded letters in order of the parks you visit will reveal a phrase at the end of the treasure hunt. This phrase acts as a ticket to receive your treasure. Make sure you record all the pieces of code you find.
D. Clues –The clues give you a hint as to where to search for the next laminated sign. You will start the treasure hunt with the clue on the laminated sign at location #1 (Nisqually Reach Nature Center). Each location has only one laminated sign so you must move to the next location to search for the next laminated sign. Remember, the next park you will be visiting (location #2) can be found on the treasure map. The clue tells you where to head within that park to find the laminated sign.
In order to be entered into the drawing to win the grand prize, email your name and the phrase to aprilroe@nisquallyestuary.org. Every child receives an awesome NRNC sticker (treasure!) for participating! Please send your mailing address to the above email if you wish to receive sticker(s).
Here are a few extra reminders to ensure you and your family have a positive experience:
*Bring a pencil, crayons, and colored pencils for the activity book.
*You will need a Discover Pass ($35) and we are not authorized to sell them at the nature center. Click here to check out WDFW's website for a list of vendors. You can also check out a Discover Pass through Timberland Regional Library by clicking here.
*You must follow all park rules at the locations you will be visiting. Please do not wander off the trails. There is no buried treasure so please do not dig holes in our beautiful parks.
*The purpose of this event is for you and your family to enjoy spending time and learning together while exploring Thurston County's magnificent public lands. If something doesn't work out (someone steals a sign, you just cannot find a sign, the treasure map goes missing, etc.) send an email to aprilroe@nisquallyestuary.org or call 360-459-0387 and we will help you get back on track.
*Please leave all laminated signs where you found them. We want to give all families the opportunity to enjoy this activity.
Ready to Register?
Treasure the Adventure Hunt runs through September 19th. Please register for a time to pick up your packet of materials (including your treasure map and activity books) at Nisqually Reach Nature Center which is where the hunt begins.