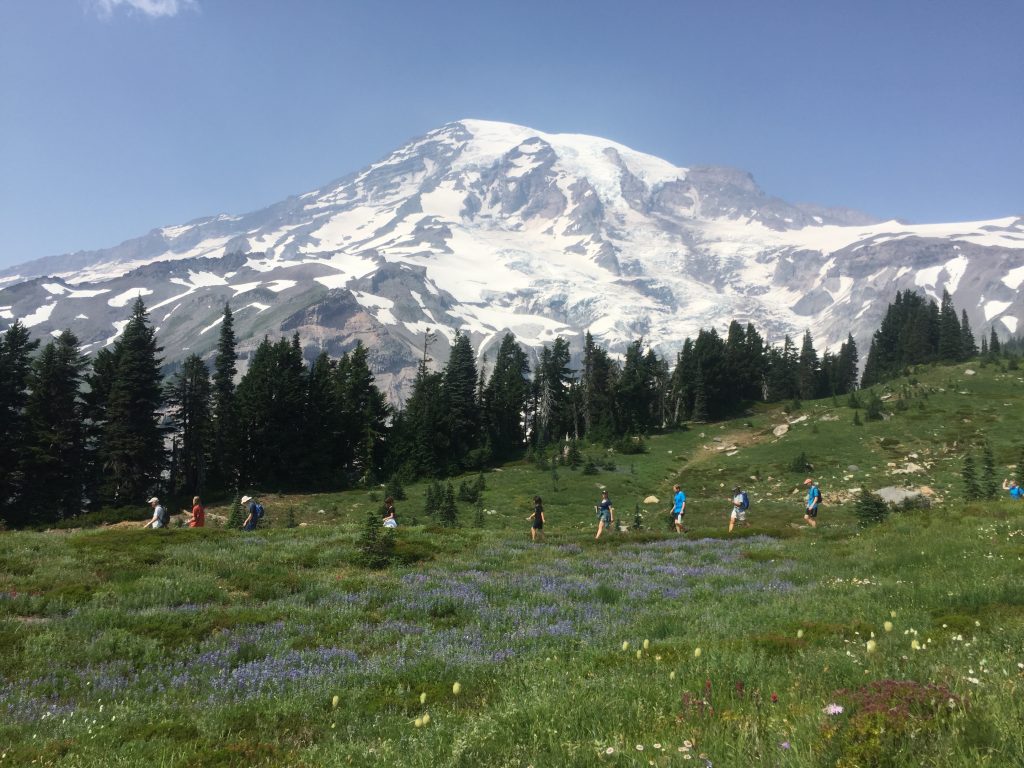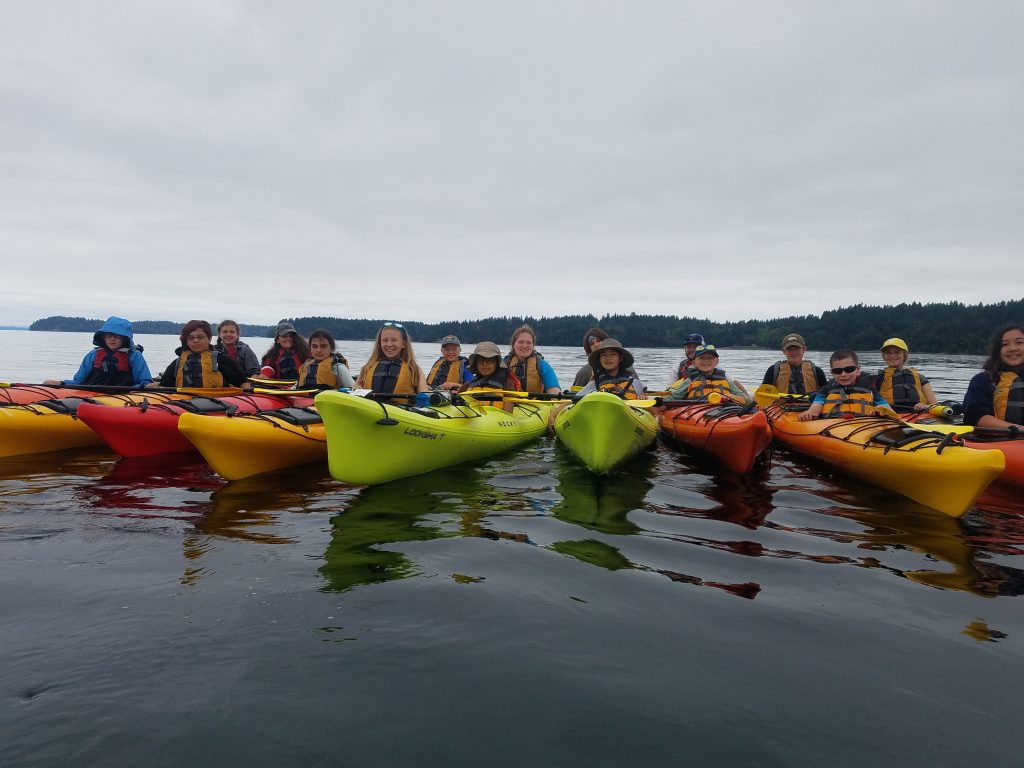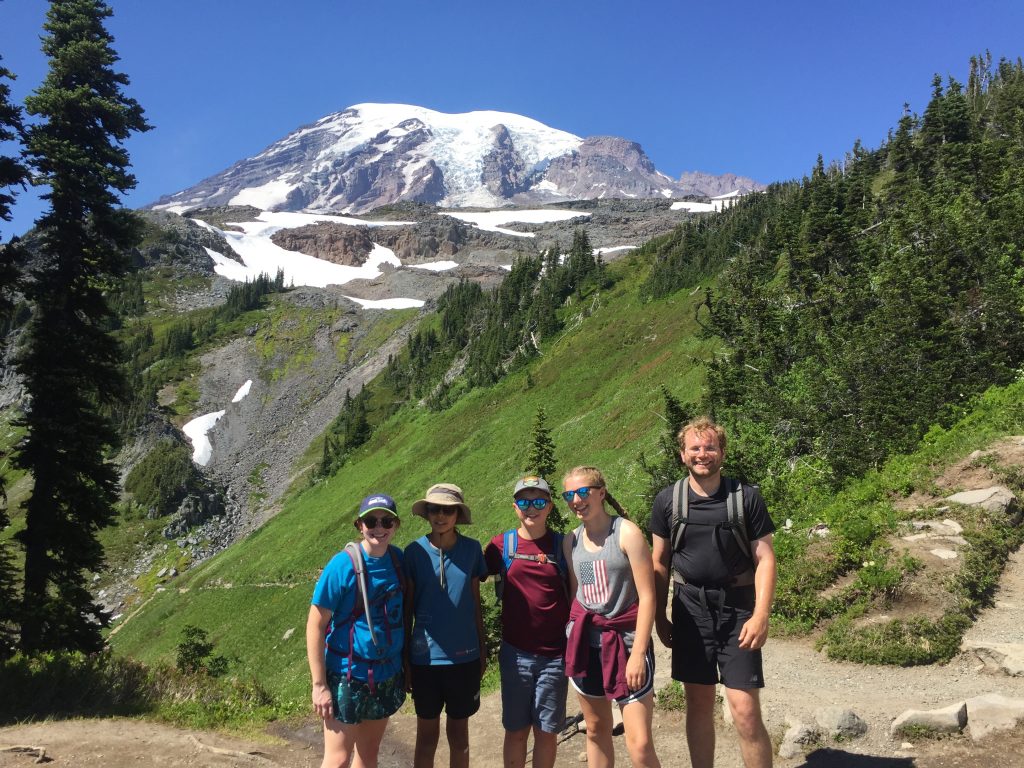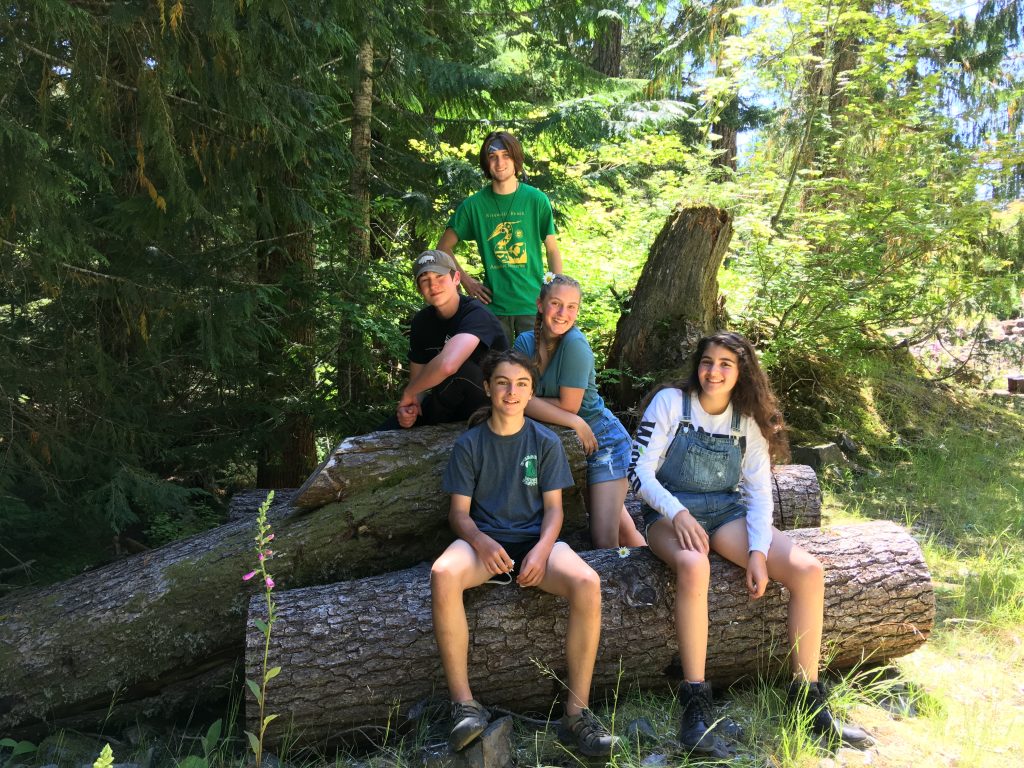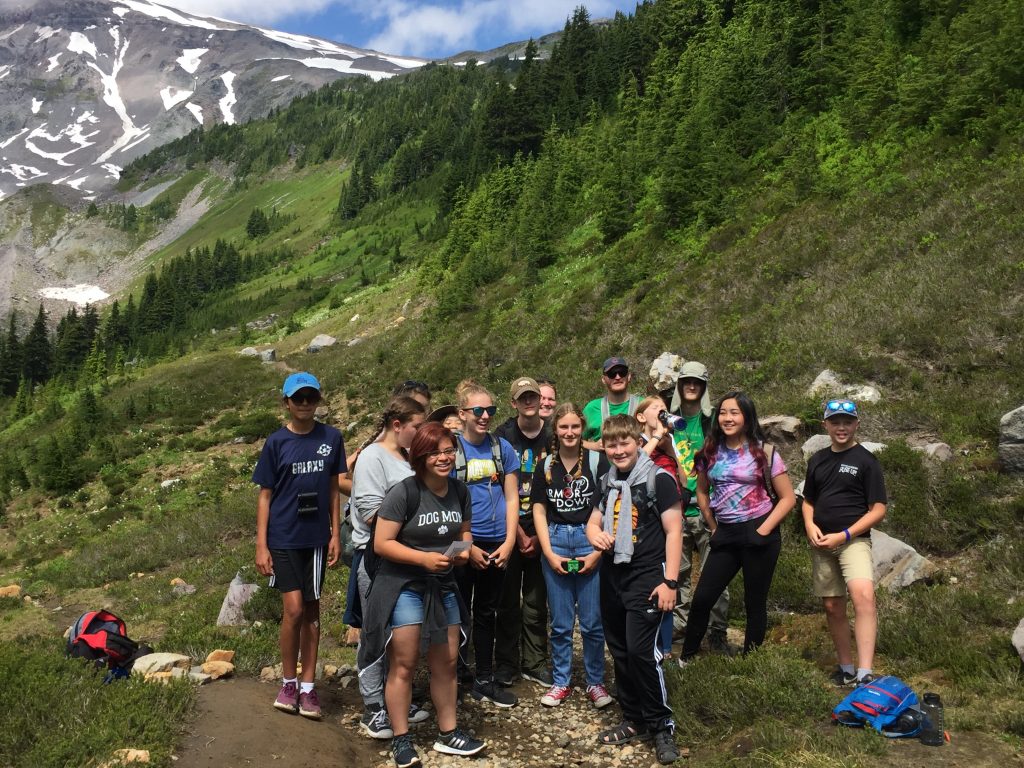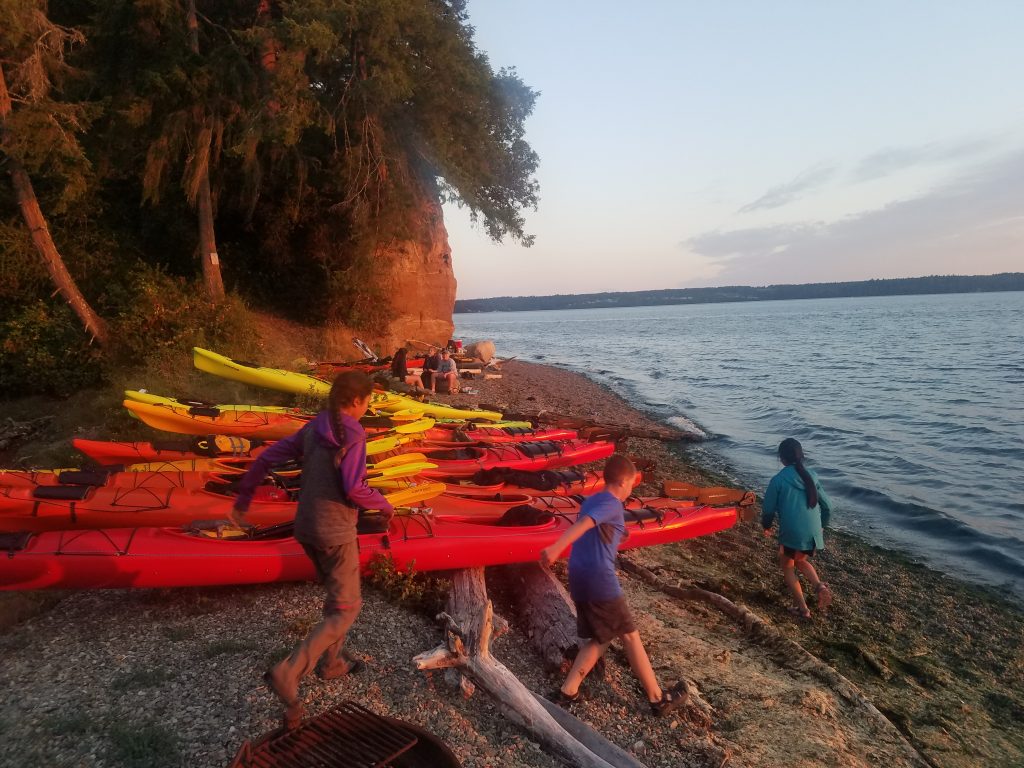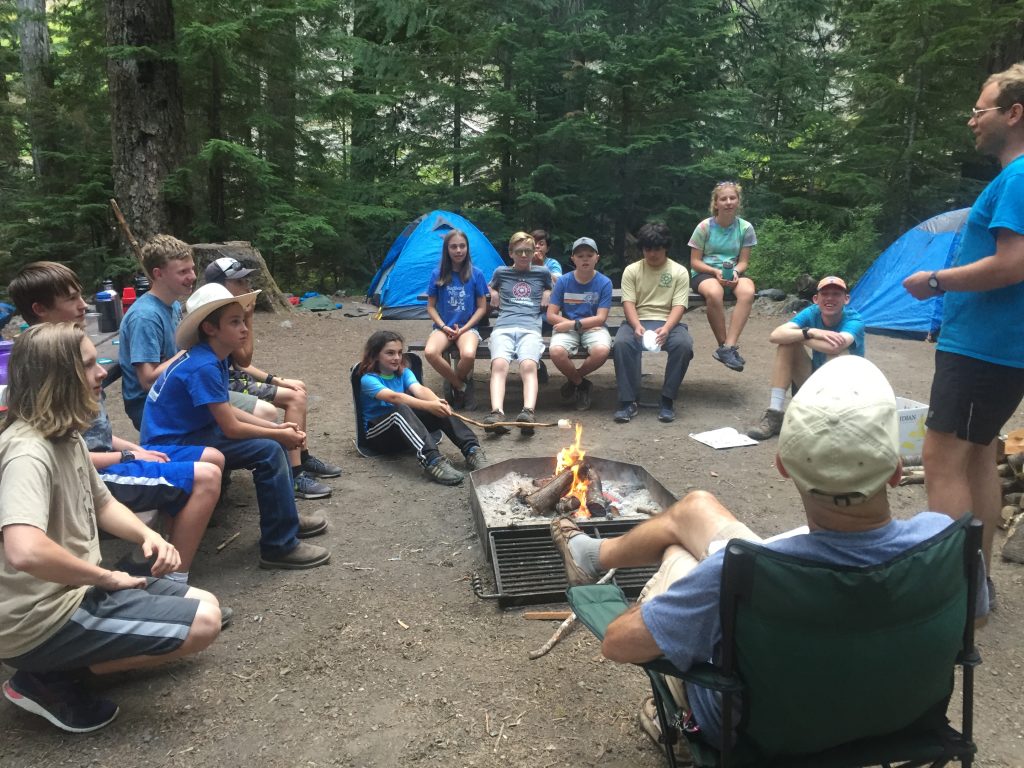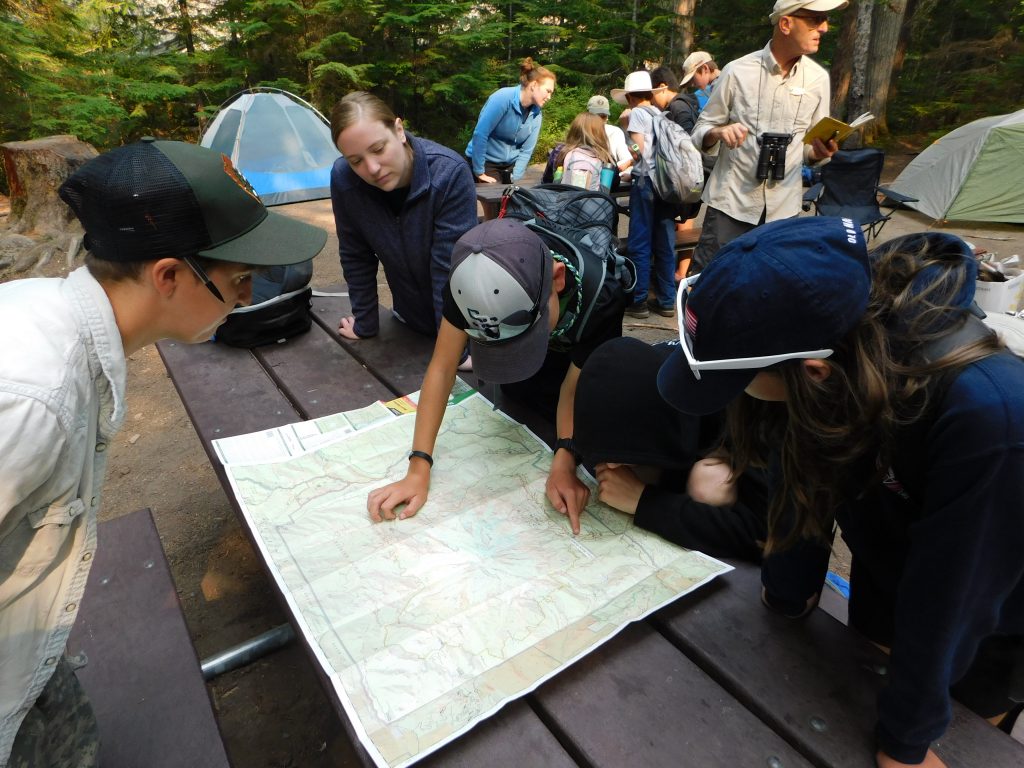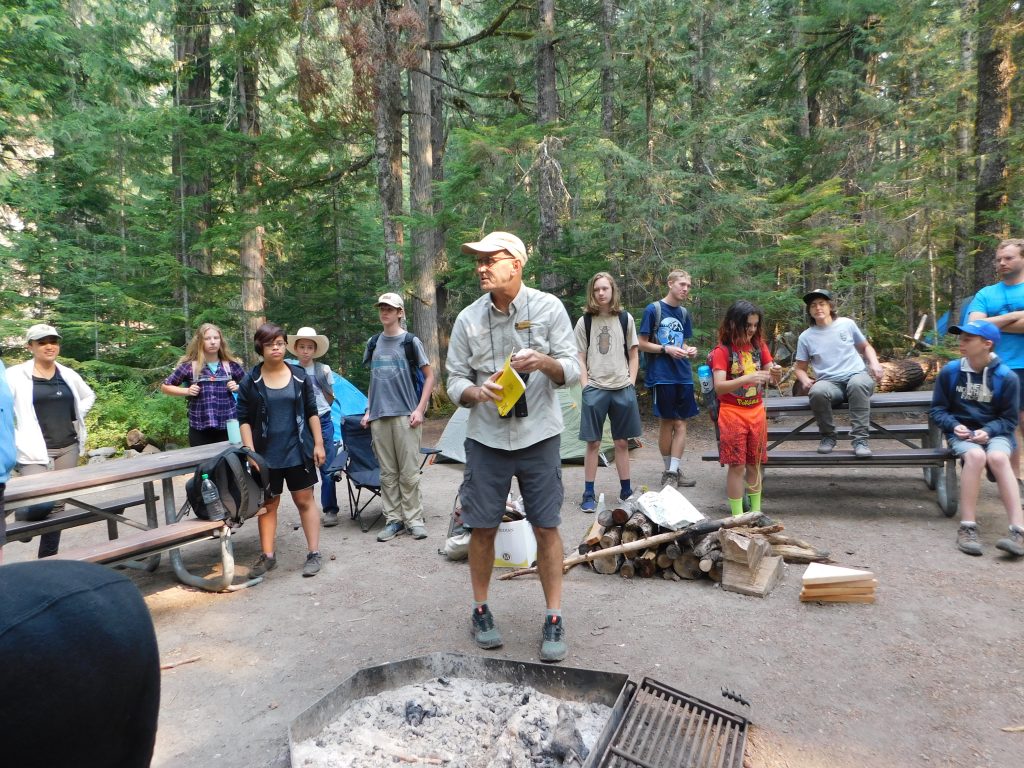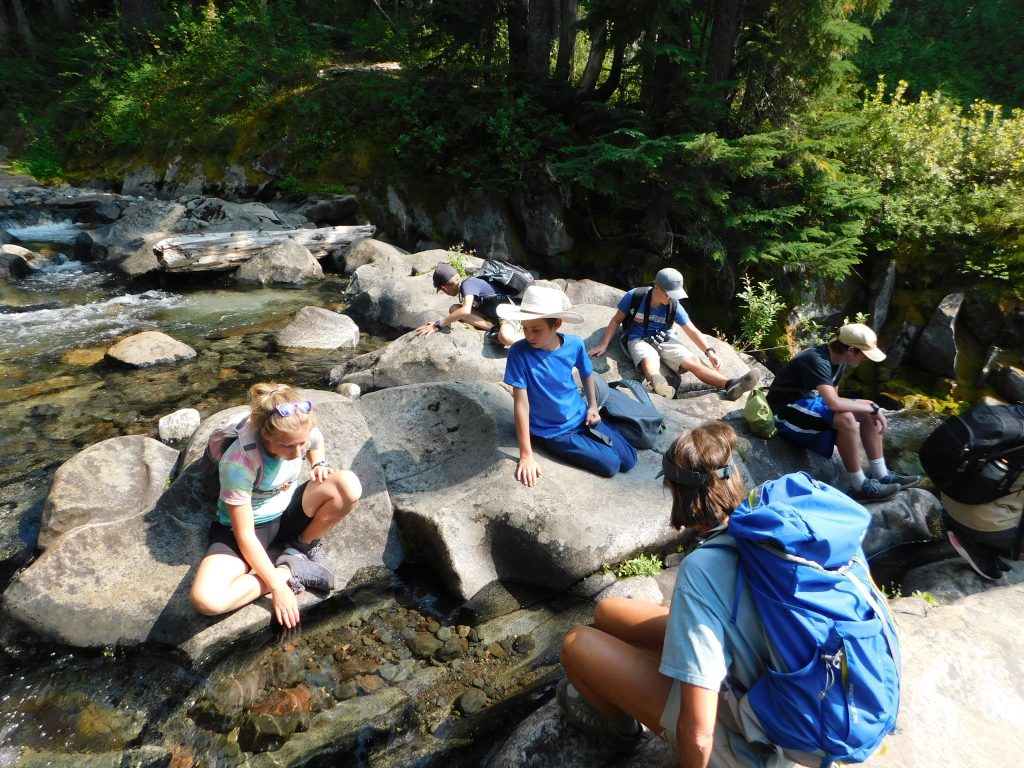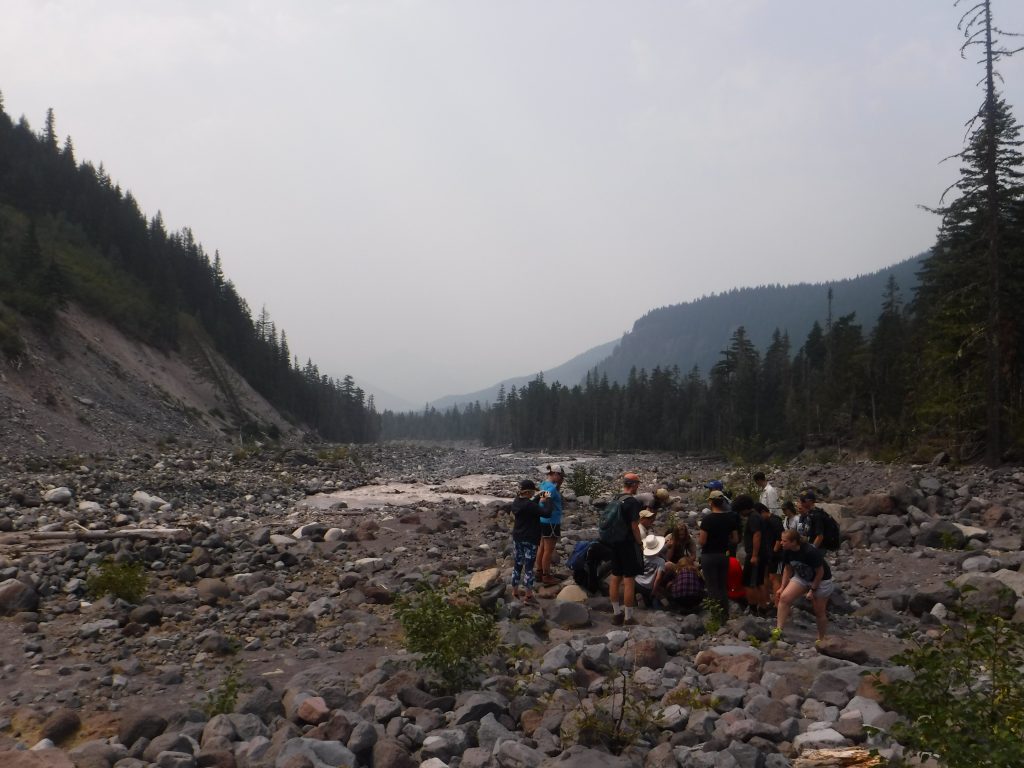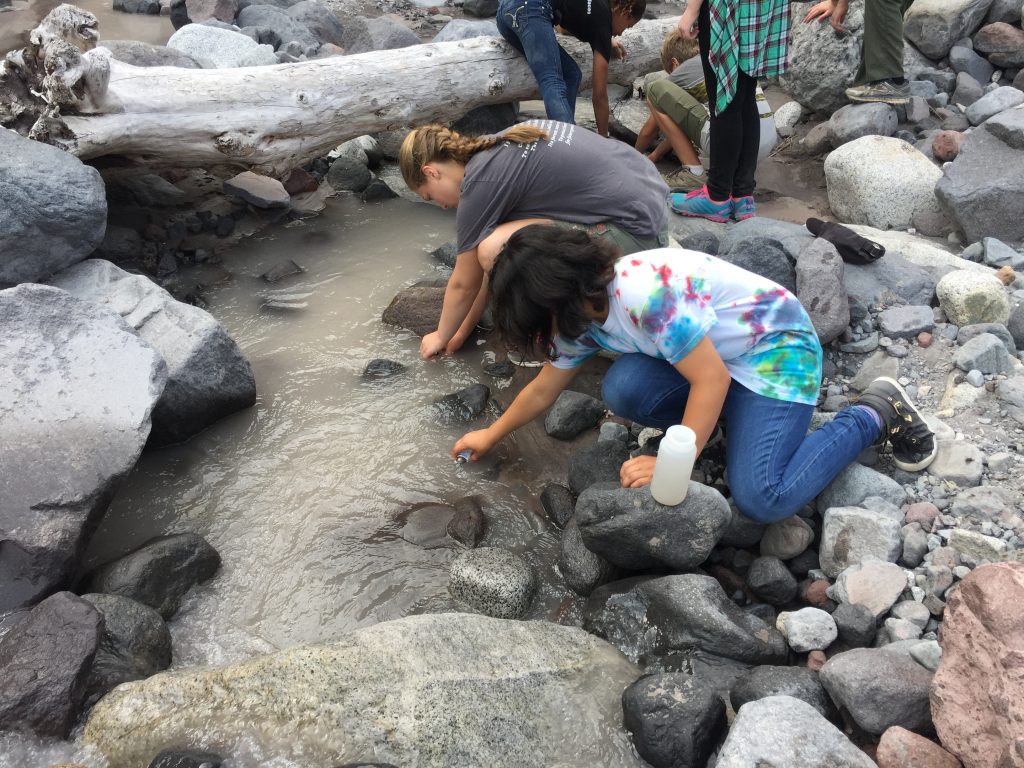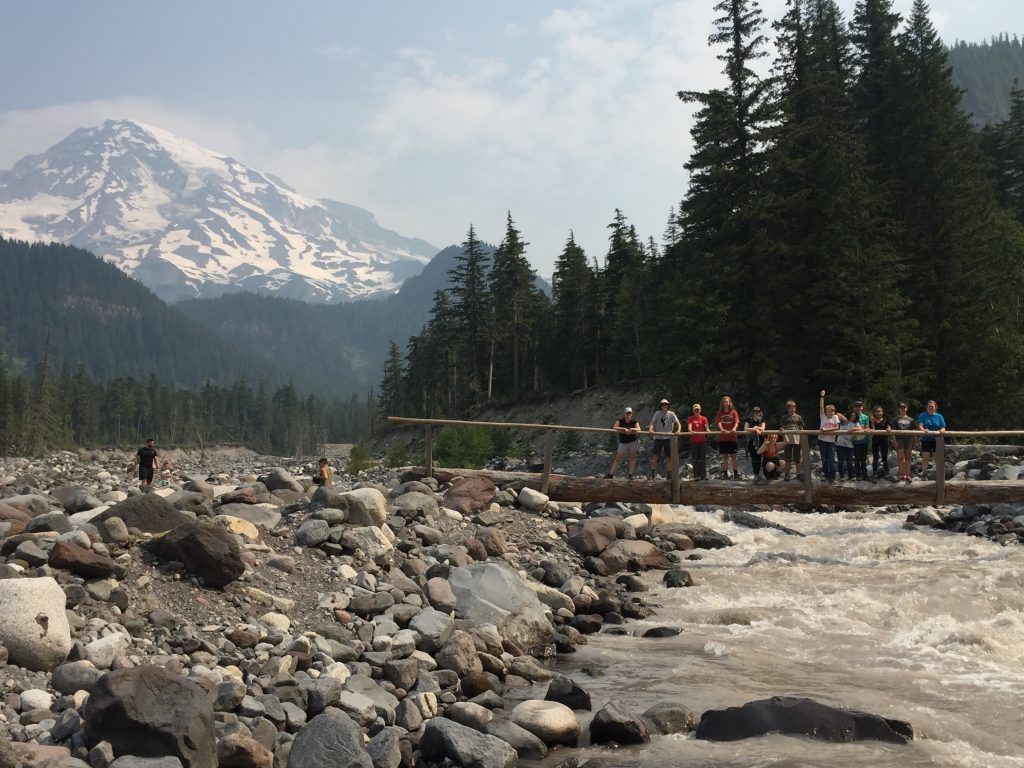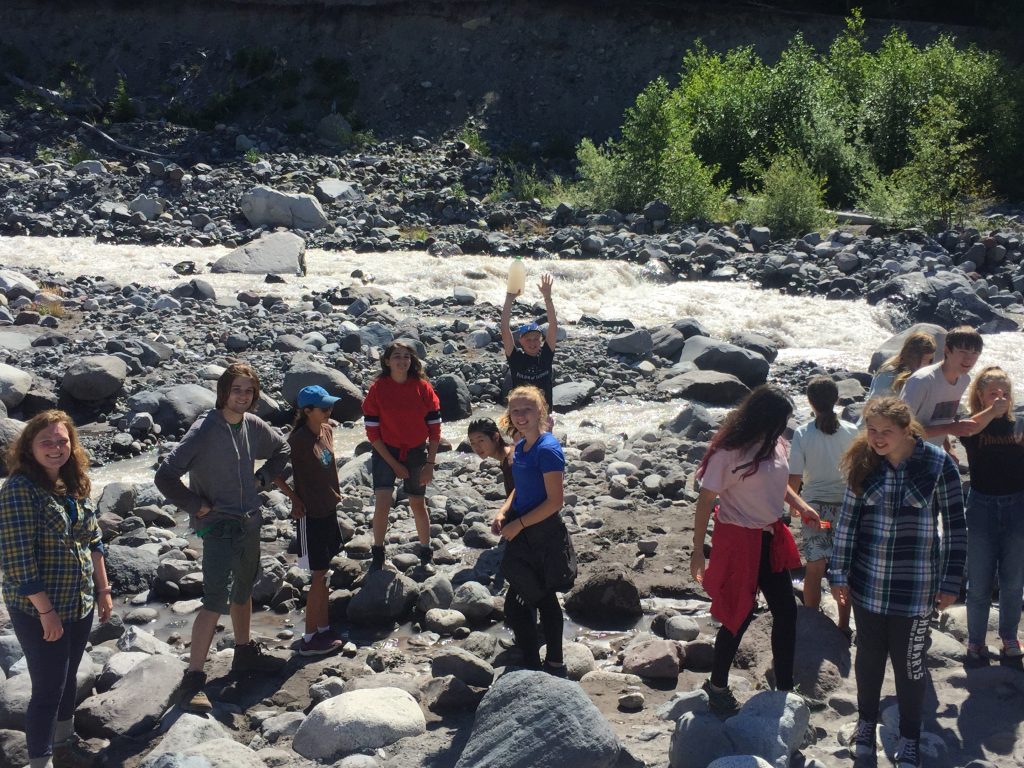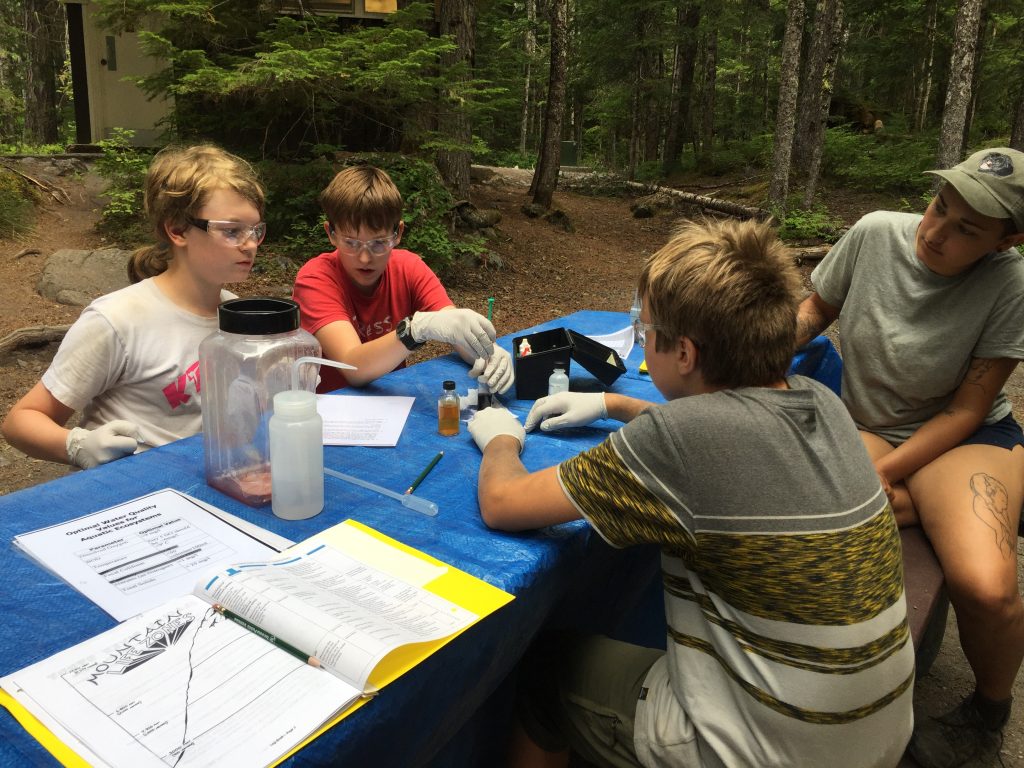 Citizen Science Academy is a science adventure camp for youth ages 12-15. It is focused on having fun and learning about environmental and marine science within the Nisqually Watershed.
Campers start the week by exploring issues surrounding fish conservation while learning how to fish with professional guide and fish biologist J. Michelle Swope. The next day students enjoy a leisurely kayak trip on the Nisqually Estuary in partnership with Olympia Parks, Arts, and Recreation. Three days will be spent immersed in the gorgeous wilderness of Mt. Rainier where campers learn about rivers, glaciers, and volcanoes. Campers first adventure to Paradise where they hike to a viewpoint of the Nisqually Glacier before hiking a few miles past huge waterfalls down to Cougar Rock Campground. The following day is spent exploring Sunrise with Jeff Antonelis-Lapp, author of Tahoma and Its People, a natural history of Mount Rainier National Park. We'll get close up views of wild, glacially-fed rivers, see the site of one of the largest lahars on record, and explore some of the places that Native Americans have visited for thousands of years. Students then travel to Pack Forest and stay overnight at Pack Forest Conference Center. In partnership with University of Washington's Mt. Rainier Institute, campers participate in a field experience regarding climate change and forests.
This 6-day science-based adventure academy is part day camp and part overnight camp. Please read the schedule below for information about each day. Students are always picked up or dropped off at NRNC.
2020 Citizen Science Academy SCHEDULE
Monday, July 6th: 9 AM – 4 PM @ NRNC
Tuesday, July 7th: 9 AM – 4 PM @ NRNC
Wednesday, July 8th: 9 AM @ NRNC – Overnight at Mt. Rainier
Thursday, July 9th: Away at Mt. Rainier (Overnight)
Friday, July 10th: Leave Mt Rainier, Arrive at Pack Forest (Overnight)
Saturday, July 11th: Leave Pack Forest, Students picked up at 6:30 PM
WHAT MATERIALS ARE PROVIDED?
During the Mt. Rainier/Pack Forest trip the following are provided for campers: Tents, Sleeping bags, Sleeping pads, Meals (menu provided beforehand) and Snacks.
APPLICATION PROCESS
Enrollment is first come, first served.
To apply, please fill out the online application using the link below (including scholarship/financial aid request form if applicable). If not paying in full at the time of application, a $250 non-refundable deposit is required.
We will notify each applicant regarding enrollment status as soon as possible, typically within three weeks of receiving your complete application. If you don't hear from us within three weeks of submitting your application, it may be incomplete. Please contact us to find out what is missing!
TUITION AND FINANCIAL AID
Members – $600 (Must have household membership or above)
Non-Members – $650
The $250 non-refundable deposit due with your application is part of your child's tuition. The remaining tuition is due by June 15, 2020.
Limited need based financial aid is available. We try very hard to make camp accessible to everyone. Please fill out the scholarship application form below to apply for funds. Financial Aid requests may take longer than three weeks to process.
We work all year long to keep our costs low, to offer more programming, and to provide financial aid through grants, fundraising, benefits, etc. As a nonprofit, any amount paid over the standard fees is considered a tax-deductible donation and is greatly appreciated. This includes donations to help sponsor another camper. Let us know if you need a tax receipt, and we will send you one. Thank you!
For Younger Students
The center also hosts a series of less extensive 3-day (non-overnight) camps for students aged 7-12. Click the link below to learn more.