NRNC is excited to announce our new Family Field Trips! We have been missing the hundreds of students that use our beach each spring to learn about the amazing Nisqually nearshore environment! With all of your beautiful faces in mind, we created marine science kits which allow you to do two self-guided surveys on gorgeous Luhr Beach. If you have been to a NRNC field trip or summer camp before, these are versions of our classic shore crab and benthic invertebrate surveys. Students learn how to identify male and female shore crabs while practicing their Peregrine Falcon-like reflexes (shore crabs move FAST and students need to be FASTER!). During a benthic invertebrate survey, students dig down roughly a foot into the mud and collect all the creatures they are discovering. Use our ID guides to identify these estuary-loving invertebrates!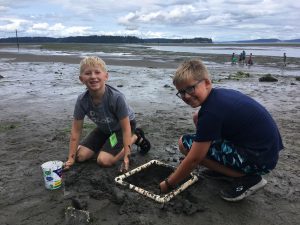 If you would like to reserve a marine science kit for your family to enjoy, read the guidelines below:
1. NRNC is not hosting/leading these field trips. We are allowing family groups who currently live in the same residence to borrow our science equipment assuming families will be walking through the outlined curriculum together.
2. The nature center building is required by Washington state to stay closed to the public at this time (including our restrooms).
3. Kits will be labeled with your name and left outside the nature center for families to pick up at the designated time.
4. NRNC is following Washington State Department of Health, CDC, and Thurston County Covid-19 guidelines. We expect all program participants to also adhere to these guidelines. This means that Family Field Trips are only open to those residing in a county in Phase 2. 
5. Each kit is sanitized after being returned to NRNC and before it is borrowed again.
6. Marine science kits are for use at NRNC/Luhr Beach only during the time reserved. Please do not take kits to another beach. Each kit needs to be returned two-hours after your pick-up time.
7. To reserve a time to use a marine science kit, click here.
8. If you wish to submit your data online and be part of our larger data collective please click:
Please consider making a charitable donation if you enjoyed your time on the beach doing science.